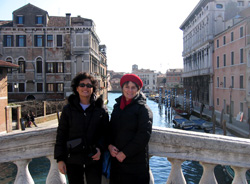 Oggi, Domenica, gli studenti passano la giornata con le rispettive famiglie.
Le proff. ... preparano l'escursione
del gruppo a Venezia, esplorando
la situazione sul campo ;-)
Today is Sunday, and the students
are spending the day with their
host families. The teachers are
preparing the trip to Venice!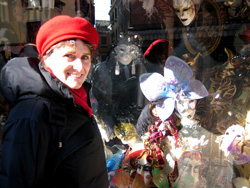 Tutto pronto per il famoso
Carnevale di Venezia...
anche se a Rio fa
decisamente più caldo!
It is Carnival time in Venice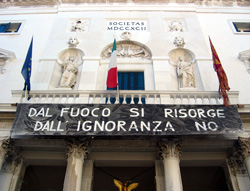 Proteste dei lavoratori del teatro
La Fenice contro i tagli del governo
alle manifestazioni culturali.
La cultura costa...
ma l'ignoranza costa molto di più!
The theater La Fenice has been rebuild
after the fire which destroyed it some
years ago. The sign is a protest against
cuts on cultural programs in Italy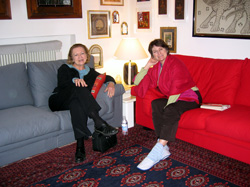 Le proff. Sharon Sybert e Mimi Lopez
esauste al termine di questa
lunghissima giornata...
The teachers Sharon Sybert
and Mimi Lopez
exhausted after a long day...